"What isn't broken in our beloved America? Politics, Congress, community, trust, our economic system, compassion are all broken. It is disgraceful that the richest nation in the history of mankind winks at the wide, still growing economic gap between the haves and the have-nots. "To whom much is given, much is required" needs to be a vital part of our national conscience."
— Paul L. Whiteley Sr., LOUISVILLE, KY (in response to Fareed Zakaria's "The Debt Deal's Failure")
lessons learned from living in texas
goddamn, do texans have a sense of patience. an outrageous sense of patience. when it takes eleven hours to drive out of your own state, you learn to laugh in the face of time and distance.
not enough space. there is never enough space anywhere else. texas is a fucking sprawl of land. 
texans are cold anywhere but in texas. fact.
the weather exists everywhere but in texas. rain is a myth concocted by the media elites or who-the-fuck-ever has to gain from bullshit like that. the only determinant in texas of temperature or climate or whatever heat index you fucking want to use is whether or not the ac is on.
texans are friendly as fuck. we may have never been to el paso or houston or where-the-fuck-ever, but if you're from texas, you're family.
we're goddamn nuts. not in the sense that we tote around guns and ride fucking longhorns to school or that shit. but, hey, having once been an independent republic and fucking having rick perry (rick goddamn perry, what in the actual shit) as a governor and all that alamo shit tends to go to your head. we're either filled with a deep rebellious spirit or we're goddamn religious lunatics. we wreck shit up.
we don't take shit. family is basically the hallmark of a great civilisation - if you listen to the nutters here. that being said, we don't like it when people give others flack out of intolerance. cut that shit out. we're fucking mama grizzlies when it comes to our rugged cowboy~*~* sense of justice. the news'll tell you that we're all right-wing hooligans. fuck naw, those people are to texans what the westboro baptist church is to christians.
texan accents. you want to know what a texan accent sounds like? stay up for forty-eight hours and then try tackling the english language. that's a texan accent. it's when you're too lazy to give a damn about speaking.
there are essentially four parts of texas. we have these weird goddamn stereotypes based on the four cardinal directions. north texas, south texas, east texas, and west texas. and then there's the panhandle. aww, who the fuck gives a shit.
public transport doesn't exist. fuck, man. the only time i've ever used a cab or a bus in texas is at the airport. to get anywhere in this goddamn state you need to drive. that's why we attach so much personal shit to our cars and pornographically decorate them with confrontational bumper stickers. it's liberty on four wheels.
"Is it 1911 or 2011? If a teen mother finishes school and at the top of the senior class, then she should be praised, not humiliated. Wimberly does actually have the highest GPA and has earned her place at the top of the class. Students and parents embarrassed that Wimberly is a young mother should be embarrassed that their kids presumably had less responsibility and still couldn't manage to be at the top of the class. Furthermore, to diminish this young girl's accomplishment by appointing a co-valedictorian with a lower GPA so that white students and their parents will not be mad is infuriating. So they're mad? So what. Let them be mad, deal with it and get over it."
Law & Order: UK - Lessons in British Justice
What has America learned from the curious and fascinating habits of British police and Crown prosecutors?
Horror films don't scare me. I'm from the land of monsters.
#america
But do you know what people are fed up with most of all?
They're fed up with a town where compromise has become a dirty word. They work all day long, many of them scraping by, just to put food on the table. And when these Americans come home at night, bone-tired, and turn on the news, all they see is the same partisan three-ring circus here in Washington. They see leaders who can't seem to come together and do what it takes to make life just a little bit better for ordinary Americans. They are offended by that. And they should be.
The American people may have voted for a divided government, but they didn't vote for a dysfunctional government.
President BARACK OBAMA
A short film about my favorite post-apocalyptic hell-hole, the Salton Sea.
This is so bizarre. And so incredibly sad. And surreal. And weird. And, wow, so divinely itself. Shit, man.
The reason they call it the American Dream is because you have to be asleep to believe it.
George Carlin.
United States of Science! Brilliant map of how each state shines in science, nature and public health, courtesy of Mother Nature Network.
Feel good about yourselves, Americans. 25th in math, 21st in science.
eta out of 30 developed nations.
America is England's fault.
god, i love greg proops.
Uganda
Look, I certainly don't want anyone to be put to death for being gay in any country. And if there's something to be done to stop that, of course I'm in favor of it.

But can we please stop assuming that we as Westerners can look at the actions of an African government, decide that we don't like them, and change them in one fell swoop just by saying "Hey Uganda, we don't like this." Can we stop assuming that as Westerners we get to go "Hey, we're Westerners, and many of us are American, and many of us are white, and that means we get to decide how your country is governed even though most of us don't know where it is located on a map, let alone the first thing about your culture or your economy or what type of government you even have"? Can we stop assuming that because we in our privilege have troubled ourselves to sign an internet petition, the ruling classes in nations that most of us know nothing about should bow to our will? Because until we stop assuming these things, we will not be able to even begin to grasp the complexity of how institutionalized homophobia works on a global scale. And only when we begin to grasp that complexity will we have even the tiniest hope of doing anything about it.
If no one ends up wanting to dress up as the kids from Battle Royale for Halloween (the best senior costume ever, amen) with me next year, I'm going as Rosie the Riveter. 
FUCK YEAH, DISILLUSIONMENT!!!
What I'm trying to say is that the US and the UK are totally fucking. What? Too subtle?
But on the other hand, relevant poster for Japan.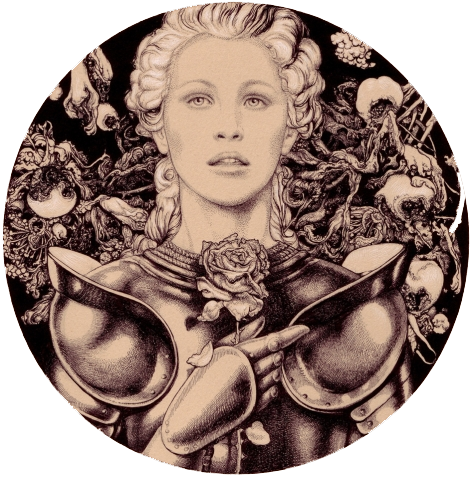 Updates


watching: les revenants reading: a world of ice and fire next convention: ctn expo | los angeles working on: dreamworks animation intern | ctn expo | currently in plano